The Place of Language in the Teachings
By Rhondell
Words are the tools of thought. When language is confused, people's capacity to think objectively and to act creatively is impaired. Words are dangerous tyrants over those who misuse them. such confusion of language exists:
when responsibility is made into duty;
when duty is made into responsibility;
when rights are confused with privileges
when so-called absolute opposites of good and bad, right and wrong, normal and abnormal, pretty and ugly, etc., are defined as facts;
when security is related to money or being taken care of, etc.
The FIRST PURPOSE of this work is to straighten out the language for one's own use so that one is no longer confused. One may then arrive at the proper formation of thoughts into words.
This work is not designed for "do-gooding." It really comes under the category of EDUCATION. Education guides one to investigate, observe and discover.
Parents have a duty to see that their children discover that they are free people. Ordinary language teaches people that they are victims, burdened and limited. This work uses language in a very precise way so that problems are seen as challenges, obstacles are seen as opportunities, and conclusions are seen as limitations.
It is useful to let as many as possible know that they are free, since it is to one's advantage to live with SANE rather than insane people. Those who are sane realize that they are at a marvelous party being put on by the host, who is Life. Thus, it is to the advantage of parents to train their children to see what they are, where they are, what's going on here, and what they can do.
This work is of no value if it is thrust upon others. It is merely made available. There is no advantage in trying to sell these ideas to others through promotion, argument or undue influence. Only those who have an interest and initiative to investigate can benefit by this different way of seeing the world. When there are enough interested people there will be a whole NEW WORLD--A NEW CULTURE.
Language is also abused when it is used as a tool of conditioning for the purpose of making self look favorable and another person appear unfavorable. Following are typical ways the same action is described for self and for another.
| | |
| --- | --- |
| FIRST PERSON | SECOND & THIRD PERSON |
| I'm confident. | You always have to be right. |
| I'm respectful to my fellow man. | You let people walk all over you. |
| I'm misunderstood. | You wallow in self-pity. |
| I just want things as they should be. | You always have to have your way. |
| I'm under pressure. | You worry too much. |
| I'm courageous. | You are foolish. |
| I'm sensitive to personal insults. | You can't stand criticism. |
| I'm a leader. | You are a manipulator. |
| I like a change now and then. | You can't settle down to anything. |
| I want things in order. | You are a nit-picker. |
| I'm careful. | You are afraid to make a decision. |
| I'm interested in everything. | You are a dabbler. |
| I enjoy sharing interesting news. | You gossip about everybody. |
| I concentrate. | You have a one-track mind. |
| I don't let things disturb me. | You are cold and unfeeling. |
| I have a quick mind. | You jump to conclusions. |
| I'm intuitive. | You rush ahead in ignorance. |
| I have visions. | You hallucinate. |
| It came to me. | You imagine things. |
| My beliefs are truth. | Your beliefs are superstitions. |
| I have faith. | You are gullible. |
| I am cautious. | You are paranoid. |
Definitions
In this work, language is designed to be a technical tool of inner thought and outer communications, but as seen above, it is usually misused according to the psychological preferences of conditioning. However, the mind may replace this Subjective Frame of Reference with an Objective Frame of Reference if language is used only as a technical tool. So let us define these sources of mental activity.
FRAME OF REFERENCE
That by which one reacts or responds spontaneously to a situation or stimulus.
SUBJECTIVE FRAME OF REFERENCE
That by which one reacts spontaneously through the Four Dual Basic Urges, which are erroneous values formed unconsciously in infancy.
TECHNICAL FRAME OF REFERENCE
That by which one responds spontaneously through skills and knowledge of a trade, art, science or other work learned consciously since infancy.
OBJECTIVE FRAME OF REFERENCE
That by which one responds spontaneously to values formed consciously in seeing life as a wonderful gift at a very delightful party.
THINKING
Trying to decide what is the RIGHT thing in order to reach a goal, placing great value on what ought to be. A mental process where "A" side of personality puts forth its conclusions and "B" side puts forth its conclusions, forming at least two feelings about everything, called "worry."
AWARENESS
Interest in following an AIM to conduct an experiment to see what happens, placing value on WHAT IS, called "joy."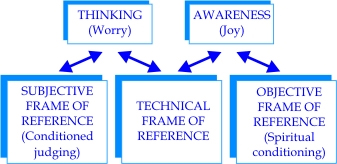 TRYING
Looking for an end result.
DOING
Action.
RIGHTS
Something that is not supposed to be earned and cannot be lost--actually nonexistent, an illusion.
PRIVILEGE
That which is given to one and is maintained, enhanced and increased by one's own effort.
WHAT IS
Fact, reality.
WHAT OUGHT TO BE
Fiction, a dream.
LEARNING
Playing the part of a tape recorder.
DISCOVERY
Creative comprehension.
EDUCATION
Gathering information regarding relationships.
SELFISH
Enlightened self-interest, deep inquiry into what is to my advantage, what is--to me--good.
GREED
Urge to have more, better and/or different; what one is when not consciously selfish.
OPPOSITES
Opposing absolutes, existing only in imagination; basis of judgment being one's senses or preconceived opinions.
DEGREE OF
Descriptive term of anything.
SUPERIOR/INFERIOR
Judgment by man-made standard of what ought and ought not to be, in an absolute, all-inclusive term.
DIFFERENT
Accurate description of that which is not identical.
PHILOSOPHICAL
Reasoning with words and judgment to explain that which is not known.
SCIENTIFIC
Based on observation and experiment without regard to judgment.
DESCRIPTION
To describe by use of adjectives that upon which there is common agreement.
JUDGMENT
To describe by use of adjectives that upon which there is no common agreement, but which represents only the speaker's personal taste and conditioning.
DIRECT
Approaching a challenge or situation through understanding the challenge or situation.
INDIRECT
Approaching a challenge or situation by trying to find a solution away from the challenge; going out from the challenge.
FREEDOM TO
Responsibility (ability to respond) by being free to experience what is and consciously choose one's response.
FREEDOM FROM
Trying to escape blame or consequences of failure by struggle, resistance and conflict; to deny responsibility.
DESCRIBE
To give the characteristics or attributes of that which can be experienced directly.
EXPLAIN
To give an opinion of "how" or "why" for that which cannot be known through direct experience.
DUTY
That which one has obligated oneself to perform.
RESPONSIBILITY
Ability-to-respond freely and consciously, fully accountable for what takes place.
SENTIMENTALITY
Identifying with others as a victim.
COMPASSION
Seeing an individual as an invited guest who always acts perfectly for the way he understands.
IMPORTANT
That which one has made necessary for one's happiness.
INTERESTING
That which holds one's attention as an event being experienced.
THING
That which is seen as a separate object of thought, having a permanent identity and existence.
EVENT
That which is a non-repeatable, momentary experience.
MY ________
Claiming possession of something which is thought of as separate but yet a part of "I".
THE ________
Expressing existence of an event or thing, in and of itself.
IDEAL
An imaginary thought of what should be.
WHAT IS
Experiencing that which is going on at this moment.
SATISFACTION
A need for a permanent and total gratification of the senses.
CONTENTMENT
Accepting gratefully partial and temporary gratification of the senses.
HAPPINESS
Trying to experience an ideal sensation permanently, which is like looking for the "pot of gold" at the end of the rainbow.
JOY
Not needing to change anything this moment; comes from a sense of discovering something; different than excitement or fun.
HEAVEN
A state of mind in which there is joy, peace and vital interest.
HELL
State of mind where there is anxiety, resentment with conflict, struggle and resistance.
BELIEVING
Accepting an explanation of that which is unknowable through demonstrable experience.
KNOWING
Seeing what one is experiencing, without a conclusion.
WORRY
Trying to decide what is right.
FAITH
Making up the mind.
EXPERIMENTING
Doing something just to see what happens.
INVENTING
Trying something to find a solution to a "problem."
COOPERATION
To work together as equals.
HELP
One person doing something for another as a superior.
SIN
Missing the mark (missing the point); to misconceive or see by misconception.
MISTAKE
An act which one thinks was not to one's advantage but which can never be proven as such; an illusion.
HURT
To cause physical or psychological pain or difficulty.
HARM
(1) To cause physical injury, or (2) To cause psychological injury by conveying through word or action that another person is not responsible for his state of being, i.e., to agree with anyone that he or she is a victim.
EVOLVING
Experiencing expanded levels of function by removing obstacles to the natural processes of life.
SELF-IMPROVEMENT
to make personal changes towards an ideal so the primary decision of comfort and pleasure might be realized.
DISINTEGRATION
Conflict, struggle and resistance to what is.
INTEGRATION
That state which exists when disintegration ends.
ACTION
A motion put into effort without a motive.
REACTION
A motion with a motive (trying to fulfill the Four Dual Basic Urges).
AUTHORITY
A person who tells us what to think.
OFFICIAL
A person who directs actions due to his office, such as a policeman.
EXPERT
A person with a special skill.
LAYMAN
A person who dies not see the difference between the authority, the official and the expert--accepting all three equally.
LOVE
Understanding and accepting another as he is--agape.
PITY
Identifying with another as a victim.
SELF-PITY
Telling oneself that one is a victim. Emotional masturbation.
HUMILITY
Not knowing what ought to be, therefore not able to give advice.
PRIDE
Knowing what ought to be and needing to prove and defend it.
FALSE FEELINGS OF EMERGENCY
Anxiety based upon misconceptions.
TRUE FEELINGS OF EMERGENCY
Seeing urgency without anxiety.
FALSE FEELINGS OF CONFIDENCE
Temporary freedom from conflict based upon comfortable assurances derived from misconceptions.
TRUE FEELINGS OF CONFIDENCE
Seeing life as an undeserved gift in which one is grateful for Second Force providing growth through challenges.
NEED
A feeling of dependency on something for one's happiness, exists only when one is resisting something.
ENJOYMENT
Freely experiencing what is at the moment without needing to change it.
SEEK
Looking for something to obtain a goal.
SEARCH
Paying attention to what is at the moment.
THE "WAY"
Elimination of the conditions (ideals) one has accepted in order to have peace of mind.
WHAT IS "RIGHT"
Advice to help one find the non-disturbed state.
NATIVE
One who claims to agree with the ideas, ideals and purposes of an institution or group.
ALIEN
One who has disclaimed his agreements with the ideas, ideals and purposes of an institution or group.
CIVILIZATION
That which is made by people who make things important.
SOCIETY
A form of competition based upon rules and obligations to protect "us good guys" from "those bad guys."
CULTURE
Freely experiencing life without competition, superiority or conflict.
GIFT
Something of value given freely without any conditions or obligations. Peace of mind is a gift.
HORSE-TRADING
"I will do this," so "you will do that"--business deal having conditions and obligations.
PERSONAL RELATIONSHIP
Subjective association of personalities where eros, pia, philo exist without agape, producing varying degrees of conflict as each has at least two ideas of what "ought to be."
IMPERSONAL RELATIONSHIP
Objective association of individuals where eros, pia and philo are completed by agape, without any idea of "what ought to be."
PREFERENCE
Taste, what one likes.
NEED
When preference is elevated to necessity.
REQUIREMENT
What is necessary for survival or completion; may or may not be according to taste.
GOAL
Identifying a "need" to be gained in the future.
AIM
A direction to go now. Going is the fulfillment, not getting.
SELF-ANALYSIS
Criticizing or justifying self according to a set standard of what ought to be.
SELF-KNOWING
Understanding, without criticizing, conditioned values and purposes.
VANITY
False picture of self.
PRIDE
Need to defend the false picture of self.
EGO
Conscious awareness center as a function of "X"
EGOTISM
Making "I" important.
SELF-RESPECT
Seeing Self as a privileged, invited guest of the host.
SELF-CONCEIT
Comparing self either as superior or inferior with everyone and everything.
PERSONALITY
That part of the Subjective Frame of Reference showing at the moment.
INDIVIDUALITY
Real I without subjective Frame of Reference.
TRUE
What is fact as ascertained at the moment, agreed upon by two or more.
TRUTH
Another word for LIFE, SPIRIT, that which IS, the real spirit and meaning of the matter, its value.
LIFE
INDEFINABLE, so referred to as "X" (as in algebra, e.g., where an x is placed when something is known to exist but cannot be defined yet). The only intelligent power that exists, the reality within that does all the work.
AWARENESS
The awareness function of "X" not a thing.
PHYSICAL BODY
The motor function of "X".
IDENTIFICATION
Claiming possession, treating the same as "I".
"I"
The conditioned awareness which identifies with everything as being "I", the self.
I
The awareness function of "X", totally objective, Self with a capital S.
"Not-I"
A mechanical product of conditioned thought which calls itself "I" but is not a part of the true I.
IN TIME
Being aware of NOW, that which has no beginning and no end, the only definition of eternity which holds up.
OUT OF TIME
Being in another world produced by imagination based on the past and future, neither of which exist NOW.
WORKING
"Doing" when one would rather be "doing something else."
PLAYING
Doing what one wants to be doing.
THE TEACHINGS
The liberating FORCE, when used intelligently by those having a well-established Technical Frame of Reference.
TEACHING
The describing of those ideas, ideals and beliefs one has accepted which are obstructions to liberation.
THE "WORK"
As applied to the Teachings, all the activities of inquiring into and experimenting with the concepts to see how they work out in life.
LOGIC
A technique of thinking which says, "If this, then that," starting with a supposition and ending with a conclusion.
REASONING
Goes step-by-step as an experiment, using the information gathered from the previous steps to see possible or probably sequence of events. It starts with a description and ends with a possibility.
CON-ARTIST
One who uses a bit of reasoning, then uses logic to show that the results are guaranteed, "without a doubt."
WHY?
To seek / see a cause to blame.
WHAT?
To ask what is going on here so one can see what to do about what has already occurred.
HOW?
To determine the technical sequence of events to accomplish a job.
EXPECTATION
The feeling one has that something will happen. It is a necessity before any action can be initiated.
TRUE EXPECTATION
The feeling, based upon reality, that something will happen; leads to creative action.
FALSE EXPECTATION
The feeling one has, based upon illusions, that one will not be disturbed; leads to disappointment and being hurt.
SUGGESTION
An idea that creates expectation that something ideal or not ideal will happen in the future. (A promise or a threat.)
APATHY
A state of having expectations that nothing will work.
PREFECT
Completed.
GOOD
Workable, useable, of value. Ordinary usage: "good" is that which is according to one's justification or taste.
GOODS
Everything--since all things are useful, of value.
PERFECT MAN
one who has completed the work of dis-identifying and leaving the Subjective Frame of Reference and has established a valuing system based on his own consciousness, an Objective Frame of Reference.
SPIRITUAL MAN
One who has built his own Objective Frame of Reference.
NATURAL MAN
The conditioned, subjective man.
REACTING
Action which replays unconsciously programmed conditioning.
RESPONDING
Action which is an answer to a situation from a consciously established Frame of Reference.
SELF-KNOWING
FIRST STEP: To see what one is reacting to and whether it is to one's real advantage.
SELF-REMEMBERING
FIRST STEP: To delay response until one can look at what is happening.
SELF-KNOWING
SECOND STEP: To recognize and reevaluate the values accepted by "self."
SELF-REMEMBERING
SECOND STEP: To remember what one is--a privileged, invited guest of Life, the host.
BECOMING
Trying to be different in order to gain the ideal--a state of falling from BEING.
BEING
Seeing one is now ALL potential and determining what might be actualized at this moment--state of joy, peace, enthusiasm.
PEACE
Absence of competition.
VIOLENCE
Using psychological or physical force to get one's way.
COMPETITION
A form of violence based on the belief "if you have it, I won't have it."
PLAY
Using skill and energy to enthusiastically accept a challenge. Playing "against the golf course instead of against the golfers."
CAUSE AND EFFECT
Blaming "this" for "that." Looking for a cause ignores that "cause" which also "caused"--thus not really a cause but part of a chain or relationships.
RELATIONSHIPS
That which exists between everything based upon the Four Forces of BALANCE.
BALANCE
Universal Law which can never be broken.
RIGHT OR WRONG
In a technical sense means that something is workable or not. In a conditioned sense means likes and dislikes of the civilized world based upon a belief in "cause and effect."
BETTER OR WORSE
Relates to a degree of agreement with one's preferences.
MAN-MADE WORLD
The world of machines, ideas, ideals, standards, and games--Caesar's world of competition and disintegration.
REAL WORLD
The world of real, living beings, each being perfect for the present time, place and circumstance--God's world of peace and integration or union, called agape.
ACTIVITY
Trying to gain a result.
ACTION
Spontaneous response to challenge without pursuing a goal.
MAKE-UP OF THE MIND
All the decisions, conclusions and beliefs in the mind which claim one is not free but limited.
MAKING UP THE MIND
The discovery that one is free with no limitations.
ILLUSION
Comparing what IS with "what ought to be."
REALITY
That which is left when all illusion is gone.
COMMITMENT
Making important some person, idea (such as non-disturbance), feelings, sex, money, marriage, organization, family, success, identity, past, future, an experience, etc.
NON-COMMITMENT
making nothing important--brings emptiness, then new experience.
CHOICE
Trying to do the right thing towards a commitment.
WHIM
Doing as an experiment to see what happens, usually based on an AIM or interest, but not a commitment to achieve a goal.
CHOICELESS AWARENESS
Freedom to respond to WHAT IS, without trying to change it, but passively, alertly aware of what is and choosing freely a response to it.
"self" (Small "s")
Not a name, body, or a history but a Frame of Reference made up of a set of values, desires, motives and conflicts, most of which are mechanically programmed.
TRANSFORMATION OF "SELF"
An evolution, not produced by effort, but the result of a new set of values from a new valuing system.
LIVING
The highest form of existence.
DEPEND ON
To trust in what is needed. Since there's nothing one can depend on except change, whatever one depends on can be lost, thus creating anxiety.
USEFUL
Free to do without, but of value for its use this moment.
COUNSELOR
An advisor who gives advice to "help" a person "solve" a problem.
CO-WORKER
A conversationalist dealing with self-understanding to enable a person to understand a "problem," thus dissolving it.
DELUSION
A false idea, seeing what is not there.
ILLUSION
A misinterpretation of that which is visible.
ASSOCIATION
"This" reminds me of "that," most often unconscious.
POINT OF AWARENESS
An objective, non-identifying aspect of attention, seeing what is. An uninvolved, objective point of view, the beginning rebirth of the true I.
POSITIVE THINKING
Affirming what is not believed, an attempt to practice control by thought.
DEPRESSION
Self-pity, total subjectivity.
FIGHTING
Resisting experiencing, thus becoming more of what one is fighting.
ANARCHY
Competition without rules.
ORGANIZATION
Competition with rules.
TOTALLY CONDITIONED
Static, unchangeable, limited, dead--spontaneous reactions resulting from unconsciously established, subjective values.
IS CONDITIONING
Open-ended, continuous, alive--spontaneous responses are made from consciously established, objective values.
IN CONDITION
A state of being capable of experiencing what happens freely--such as an athlete being in condition.
MEMORIZE
Tape recording for instant replay, no real Frame of Reference, useful only in thinking.
PRACTICE
Using and working with something to provide (1) familiarity in thought, slight Frame of Reference; (2) thought-controlled performance, some Frame of Reference; and (3) spontaneous performance with little thought, real Frame of Reference.
ANXIETY
A dissipation of energy.
CREATIVE ACTION
An accumulation of energy.
"A" SIDE OF "I"
The childhood conditioning which can't stand anyone else because they are not always ideal. (Id)
"B" SIDE OF "I"
The childhood conditioning which can't stand "me" because "I" am not always ideal. (Super ego)
THE CHOOSER
The Waking Mind which just wants to have a little peace. (Ego)
---
PRINCIPLES OF FOUR
FOUR KINDS OF TEACHERS
1. WORLDLY TEACHER--Teaches that one is responsible for self and how to live by rules to reach goals of self-improvement.
2. UNWORLDLY TEACHER--Teaches that one is responsible for self and how to have "spiritual experience" so one can gain the goals of spiritual attainment.
3. INTEGRATIVE TEACHER--Teaches that one is responsible for self and therefore can end all conflict, struggle and resistance by discovering the illusions which are obstacles to liberation.
4. DEVIL TEACHER--Teaches that one is not responsible for oneself and as a victim must accept ideal standards of control in order to be safe, and rewarded later.
FOUR LEVELS OF CONSCIOUSNESS
1. SLEEP--Physical sleep, being relatively unconscious of the inside and outside worlds.
2. WAKING SLEEP--State of claiming that: All the "I"s are "I". All kinds of things are "mine." Total identification with almost everything which is then claimed as "I".
3. SELF-CONSCIOUSNESS--Seeing "I" in its total conditioned state as an object.
4. OBJECTIVE CONSCIOUSNESS--Being without identifying.
FOUR DUAL BASIC URGES
1. Gain comfort and/or escape pain.
2. Gain attention and/or escape being ignored.
3. Gain approval and/or escape rejection.
4. Gain importance and/or escape feeling inferior.
DEALING WITH THE FOUR DUAL BASIC URGES CONSCIOUSLY
| | | |
| --- | --- | --- |
| Psychological Desires | When Unexamined | When Examined |
| (As needs) | | (As preferences) |
| | | |
| Comfort/Pain | At any price | NOT at any price |
| Attention/Being Ignored | At any price | NOT at any price |
| Approval/Rejection | At any price | NOT at any price |
| Important/Inferior | At any price | NOT at any price |
| | | |
Note: The Four Dual Basic Urges are not "bad" or "good" or "right" or "wrong"--they are byproducts of living and will be there; they are simply not the PURPOSE OF LIVING.
THE FOUR FORCES
1. INITIATIVE--Originator or starter
2. RESISTANCE--To the starter
3. FORM--The visible aspect
4. RESULT--What happens
FOUR IDEAS OF THE WORLD WHICH ARE CONSIDERED ESSENTIAL
1. The "reality" that there is an IDEAL.
2. The ability and "necessity" for self to SELF-IMPROVE towards the "ideal."
3. The need for SIGNS and DEMONSTRATIONS to show degree of "self-improvement."
4. The necessity to find the CAUSE TO BLAME and make it pay--"justice."
A FORMULA FOR MAKING A SUGGESTION
1. Create desire by identifying need.
2. Set up a goal with the promise of being "better off."
3. Show the method and "how easy it is."
4. Act upon it and imply a guarantee.
THE FOUR FALSE CLAIMS OF THOUGHT
1. PROPHECY--Claiming to know the future.
2. CLAIRVOYANCE--Claiming to know what's happening someplace else.
3. PSYCHIC--Claiming to know everybody's motives.
4. DIVINITY--Claiming to know what ought to be and what ought to have been.
FOUR REASONS "I" FEELS IMPORTANT
1. "I" know what ought to be.
2. "I" know or could know what everyone needs.
3. "I" know or could know the future.
4. "I" know or could know the cause of everything.
THE FOUR DESTRUCTIVE EMOTIONS
1. ANGER--Blaming someone else.
2. GUILT--Blaming self.
3. FEAR--Not knowing whom to blame
4. INSECURITY--Feeling inferior.
EXPERIENCING THE FOUR DESTRUCTIVE EMOTIONS FREELY
1. ANGER--As a sense of competition in a game.
2. GUILT--As a feeling of "I" put one over on me at the time.
3. FEAR--As a sense of excitement.
4. INSECURITY--As a sense of adventure.
THE PROBLEM MAKERS--FOUR UNANSWERABLE QUESTIONS
1. Did "I" or they do the right thing?
2. AM "I" or are they doing the right thing?
3. Will "I" or they do the right thing?
4. Why?
FOUR PROPER USES OF THE MIND
1. Seeing WHAT IS at this particular moment.
2. Recording for memory what takes place.
3. Making up the mind as to what experiment to run.
4. Seeing probably sequence of events.
THE FOUR FACTORS AFFECTING STATE OF BEING AND SOURCE OF STRESS
1. ENVIRONMENT--What is going on around one. (And what one radiates)
2. NUTRITION--What one consumes.
3. ACTIVITY--What one does.
4. INNER FEELING--What one feels.
THE FOUR ASPECTS ENCOMPASSED IN "LOVE"
1. EROS--Physical attraction, a natural feeling.
2. PIA--Parent to child, a natural feeling.
3. PHILO--Approval, a natural feeling.
4. AGAPE--Understanding, a deliberate use of the mind.
THE FOUR STEPS OF REGENERATION
1. CONFESSION--To see true motives of self--Active
2. SURRENDER--To give up the values of the "Not-I's" of conditioning--Passive
3. REPENTANCE--To turn about from putting value on "what ought to be" to putting value on "what is"--Active
4. NEW MAN--Cleansed of all beliefs and values of the conditioned person, regenerated by the enthusiasm of thankfulness--Passive
THE FOUR BASIC IDEAS OF THIS WORK
1. SELF-KNOWING--Seeing the illusions and false values of conditioning.
2. FAITH--Ability to make up the mind.
3. GRACE--Thankfulness for unearned, undeserved goods.
4. AGAPE--Sees that everyone, including self, is doing, has been and will do, what at that moment of doing seems right or proper or justifiable according to which "I" is in charge that moment.
THE FOUR WAYS TO DEAL WITH MOTION
1. RETURN--Conditioned reaction--"A" Side.
2. HOLD--Conditioned reaction--"B" Side.
3. DESTROY--By Agape, understanding motive.
4. ORIGINATE--By making up the mind, can only follow Agape.
THE FOUR GREAT PROFESSIONS
1. MEDICAL ARTS--Claiming what is normal/abnormal; healthy/sick.
2. THEOLOGY--Claiming what is good/bad, right/wrong.
3. POWER POLICIES--Claiming what is in/out, "us"/"them."
4. BIG BUSINESS--Claiming what is pretty/ugly, smart/dumb.
THE FOUR MENTAL LEVELS
1. ATTENTION--What one is thinking about, seeing through a lens colored by the other three levels.
2. ASSOCIATION--Comparing "that" to "this," consciously and unconsciously.
3. DREAMS--Created images in the mind, influencing associations.
4. BELIEFS--Conclusions acquired by suggestion, influencing dreams.
---
FORMS OF RESISTANCE
10. Resisting making up of one's mind. (Faith)
9. Resisting change.
8. Resisting any challenge to one's fault-finding.
7. Resisting failure to realize one's expectations.
6. Resisting any challenge to one's beliefs.
5. Resisting any reflection on one's image of self.
4. Resisting not getting one's "rights."
3. Resisting now having one's own way, NOW!
2. Resisting all possibility of losing that which is judged pleasurable or comfortable.
1. Resisting all forms of what is judged painful.
MORE FORMS OF RESISTANCE
12. Resisting knowing oneself.
13. Resisting agape.
14. Resisting saying "NO."
15. Resisting consciously playing a role.
16. Resisting giving up all pre-conceived opinions.
17. Resisting disidentification.
18. Resisting a quiet mind.
---
THE LANGUAGE OF THE THINKING MIND
Much of the "talking" in the mind is clothed in language which keeps one from realizing what is really being said. Listed here are many thoughts which are stripped of their elaborate qualifications and justifications, thus may be more easily recognized and re-evaluated.
Since there are two opposing ways (A-side and B-side of the Picture of Man) that the mind tries to fulfill the four dual Basic Urges, a separate list will be given for each. These lists are merely sketchy introductions to the many self-proclaiming "I"s that make up the multitude inhabiting the "self."
BELIEFS HELD BY THE "A" SIDE
THE COMPLAINER, THE GENIUS, AND THE BLAMER

A1. "I" BELIEVE "I" understand EVERYTHING "YOU" say, but you do not understand ANYTHING that "I" say or "YOU" would agree with "ME."
A2. "I" BELIEVE that if everything works out well, "I" did it, but if it does not work out well, it was bad luck, so "I" can brag over success and complain over failure.
A3. "I" BELIEVE "I" know what is true and what is false in the field of living that relates to "ME."
A4. "I" BELIEVE "I" know what would be the outcome if things, people and situations were like "I" know they should be, NOW!
A5. "I" BELIEVE every effect has a cause and every cause has an effect.
A6. "I" BELIEVE "I" know what is cause and what is effect.
A7. "I" BELIEVE "I" know what is good and what is bad.
A8. "I" BELIEVE that others know what is good and what is bad, what is right and what is wrong, but being perverse, they go right no and do what is bad and what is wrong, anyway.
A9. "I" BELIEVE "I" am one and the same person all the time.
A10. "I" BELIEVE "I" have free will, but "I" also believe that what "YOU" do determines "MY" feelings and behavior.
A11. "I" BELIEVE "I" am awake and fully conscious of all "MY" motives and behavior.
A12. "I" BELIEVE "MY" ability to reason is infallible.
A13. "I" BELIEVE that the date "I" accept to reason from is infallible.
A14. "I" BELIEVE that if a statement is logical then it must be true.
A15. "I" BELIEVE that in my present state "I" can understand any book printed in the language "I" speak, write and read.
A16. "I" BELIEVE that because "I" have committed to memory certain phrases and words from books, "I" thereby know the whole meaning of these words and phrases.
A17. "I" BELIEVE "I" understand what others mean by their words.
A18. "I" BELIEVE "I" know certain people.
A19. "I" BELIEVE that "MY" opinions are correct; if "YOU" don't agree with them, "YOU" are either poorly informed or simply stupid.
A20. "I" BELIEVE that by just struggling on in "MY" present state everything will finally work out about the way "I" want it to.
A21. "I" BELIEVE "I" am capable of judging others and "I" believe my judgment of them is fair and accurate.
A22. "I" BELIEVE that due to "MY" being able to judge others, "I" am superior to others.
A23. "I" BELIEVE that due to "MY" being superior to others, "I" have been discriminated against and mistreated by all those envious of "MY" superiority.
A24. "I" BELIEVE that those in close relationship with "ME" mistreat "ME."
A25. "I" BELIEVE that "I" merit more appreciation that "I" get.
A26. "I" BELIEVE that, due to circumstances, "I" have never had a chance to demonstrate "MY" real greatness.
A27. "I" BELIEVE "I" am entitled to have "MY" way now.
A28. "I" BELIEVE that if "YOU" were decent and good that "YOU" would help me have "MY" way right now.
A29. "I" BELIEVE "I" am entitled to have all "MY" rights, and if you were decent and fair you would see to it that "I" have "MY" rights.
A30. "I" BELIEVE "YOU" are deserving of blame and that it is my duty to point it out to "YOU" and demand that "YOU" cease being to blame and admit "YOUR" past behavior and pay damages of some sort.
A31. "I" BELIEVE "I" am victimized by "YOU" and others and am made to feel angry, guilty, fearful, insecure, envious, jealous, etc., and "I" believe that it is all your fault that "I" am miserable.
A32. "I" BELIEVE "I" have all virtues in just about the proper degree, including humility, by insisting that "I" am inadequate; however, "I" believe that if anyone agrees that "I" am inadequate they are being very unkind.
A33. "I" BELIEVE "I" am capable of directing "YOUR" affairs and that "YOU" would have no difficulties if "YOU" would just take "MY" advice.
A34. "I" BELIEVE the "I" that believes each of these, and many more things, is the one and only "I" that is "I".
A35. I"I DO NOT BELIEVE that there are many "I"s, each with a will, each trying to run the entire household called "self"; that this household is usually in conflict and in an inward state of disintegration which will sooner or later be expressed outwardly.
A36. "I" BELIEVE that NOW will be just like THEN.
A37. "I" BELIEVE that it is impossible to make a choice because circumstances prevent it.
A38. "I" BELIEVE "I" can get something for nothing.
A39. "I" BELIEVE "I" know how to do all kinds of things, such as move, eat, speak, etc.
A40. "I" BELIEVE in being attached by disease, misfortune, etc.
A41. "I" BELIEVE that MIGHT makes RIGHT.
A42. "I" BELIEVE "I" am relieved of all responsibility when "I" can blame something or someone else.
A43. "I" BELIEVE that God is a myth like Santa Claus--or "I" BELIEVE there is a God and "I" know just what He is like (this latter part is from "B" side)
A44. "I" BELIEVE that everyone is a potential enemy; in fact, 90% are picking on me and 10% might be.
A45. "I" BELIEVE that "I" have no subconscious mind, that "I" know everything that is in my head, but obviously "YOU" have a subconscious mind and fail to know many things that are in your head.
A46. "I" BELIEVE "I" have the RIGHT to expect fulfillment of all my wishes with no effort on my part.
A47. "I" BELIEVE everyone should agree with me and if they do not, they are just being stubborn.
A48. "I" BELIEVE that if there is a God, He should pay attention to me and do as "I" tell Him.
A49. "I" BELIEVE that everybody (but me) has to die.
BELIEFS PROCLAIMED BY THE "B" SIDE
THE PLEASER, THE LOYAL BELIEVER AND THE SELF-REFORMER
B1. "I" BELIEVE "I" am of real worth only if people respect my abilities, integrity and sincerity.
B2. "I" BELIEVE "I" know what "I" need and how to get what "I" need in order to be "HAPPY," like being famous or wealthy or like some people I know.
B3. "I" BELIEVE that one thing "I" need to know that "I" don't know is how to make all others see things like "I" do, so that they will do what is right, so "I" could then be "HAPPY."
B4. "I" BELIEVE that because "I" identify self as a member of a certain race, nationality or ideology, "I" am in some way superior to those identified as members of other races, nationalities or ideologies.
B5. "I" BELIEVE that if "I" believe and do as "I" am told by those "I" accept as authorities, "I" am in a safe, secure and true position.
B6. "I" BELIEVE that to be obedient refers to being obedient to an institution instead of obedient to the nature of man as en evolving being.
B7. "I" BELIEVE that everybody should have a goal or purpose in order to be properly motivated.
B8. "I" BELIEVE that everything must be practical and serve a good purpose.
B9. "I" BELIEVE that it is wrong to be selfish because selfishness and greediness are the same.
B10. "I" BELIEVE "I" should plan my work and work my plan.
B11. "I" BELIEVE "I" should be spontaneous.
B12. "I" BELIEVE "I" should be successful in everything "I" do, which means to be recognized, approved and appreciated for a job well done.
B13. "I" BELIEVE that human nature cannot be changed.
B14. "I" BELIEVE that "MY" body can hurt me.
B15. "I" BELIEVE that cleanliness is next to godliness.
B16. "I" BELIEVE that although "I" don't always succeed, "I" should think only of others and not myself.
B17. "I" BELIEVE that the real purpose of living is to make everyone, including myself, happy and "I" could do this if "I" could do all the right things like "I" have been taught.
B18. "I" BELIEVE that if good fortune does not happen, it was just not meant to be.
B19. "I" BELIEVE that if tragedy happens, it is the will of God.
B20. "I" BELIEVE that if "I" am living right, "I" will never have sickness or failure.
B21. "I" BELIEVE that sin is to do wrong and "I" know what wrong is.
B22. "I" BELIEVE "I" am good if "I" believe in a good cause or true ideas.
B23. "I" BELIEVE that life would be ideal if "I" had MORE of the right things.
B24. "I" BELIEVE that KNOWING HOW is the answer to all problems.
B25. "I"
B26. "I"
B27. "I" BELIEVE that order and discipline, meaning obedience to higher authority, are essential to man's higher evolvement.
B28. "I" BELIEVE that there are many opposites, such as good and bad, right and wrong, beautiful and ugly, comfort and pain, sickness and health, life and death.
B29. "I" BELIEVE "I" should be a good judge of everything, especially everybody.
B30. "I" BELIEVE it is my duty to help people have and do the right things.
B31. "I" BELIEVE "I" must always be on guard because everything in life is or might be a threat to my well being.
B32. "I" BELIEVE in luck or chance.
B33. "I" BELIEVE "I" should say "I" believe, even if "I" don't.
B34. "I" BELIEVE sometimes that "I" believe these things that "I" say "I" believe--until the chips are down.
B35. "I" BELIEVE that everything "I" read in print is true.
B36. "I" BELIEVE that "WE" are right and "THEY" are wrong.
B37. "I" BELIEVE the very worst thing that could happen to me is to be embarrassed or exposed.
B38. "I" BELIEVE that everything will work out all right unless somebody hates me.
B39. "I" BELIEVE that if it is something "I" really like, there must be something wrong with it.
B40. "I" BELIEVE that appearances are important, that it is important to impress by appearances.
B41. "I" BELIEVE that all stories, parables, allegories that are based on historical facts are literal history.
B42. "I" BELIEVE that esoteric books that relate to the inner states of man are literal history.
B43. "I" BELIEVE that ritual produces the results claimed for the ritual.
B44. "I" BELIEVE there is great virtue in being loyal to the beliefs of "MY" group.
B45. "I" BELIEVE that good things will be given to those who believe in the right things.
B46. "I" BELIEVE "I" should appear to be logical but "I" really don't give a damn about it.
B47. "I" BELIEVE that when "I" die, "I" am annihilated, or "I" BELIEVE that when "I" die, "I" will go to heaven because, although "I" have certainly not been perfect, "I" have sincerely tried.
---
NINETEEN POINTS TO UNDERSTANDING HUMAN BEINGS AND THEIR LANGUAGE
1. Everyone lives in his own world. It is "his" because only he can experience it.
2. Everyone perceives reality through his own conditional vision.
3. Everyone reacts as a whole being to his reality.
4. The person has one drive. He can work toward or away from self-determined integration. The choice is his but the person must be shown that there is a choice.
5. Behavior is the method of satisfying needs as seen by the individual, based on his conditioning--most of the time.
6. Feeling governs the degree of intensity of behavior. Feeling is of two types: (1) Unpleasant and/or excited (emotion) and (2) calm and/or satisfied. "Feeling" behavior affects the conditioned mind regardless of the body needs at the time.
7. The best way to understand people is to "walk a mile in their moccasins." Be aware that their behavior is to them right, proper, and/or justifiable for the time, place and circumstance.
8. Certain decisions are made regarding experiences. These decisions are motivating forces in conditioning the self.
9. As a result of decisions made by experiences (usually in infancy and non-verbalized), the conditioned self is formed and behaves according to these decisions.
10. Some values are achieved by self-experience--the "A" side. Other values are formed by belief in "authorities" and judged as if self-experienced--the "B" side.
11. Experiences are either (1) applied and used, (2) passed by after being considered useless, or (3) denied or distorted because they contradict previous conditioning.
12. Most behavior is governed by feeling rather than by physical needs.
13. Some behavior, motivated by distortions of experiences, will be denied by the individual because of its inconsistencies.
14. Psychological maladjustments occur when the individual denies awareness and lives by distorted conditioning based on the subconscious decisions.
15. Adjustment occurs (develops) and integration begins when an individual becomes aware of his conditioning and decisions, realizes he no longer must be controlled by them, finds out what he is, where he is, what he is doing and what he can do.
16. Any experience seen through conditioning may appear to be a threat. The more misconceptions (viewed as threats) occur, the more adaptation must take place. As long as the conditioning remains, it has to be defended--creating a vicious cycle which can be broken only when true perception of experience occurs. the vicious cycle appears to be necessary until Truth steps in and shows up the False Feelings of Emergency.
17. With the absence of fear (threat, judging, criticism), experiences may be seen through true perception and the individual can assimilate and utilize such experiences.
18. With true perception comes understanding of the self and others.
19. With true perception, the individual replaces the conditioned values (False Feeling of Emergency) with True Feeling, or seeing things as they are and with adequate response to the real stimuli.